Introducing the dogs we've rescued, but are not yet adoptable. Stay tuned as we continue to assess and address their needs. If you're interested in learning more about any one of our dogs, please reach out: info@k9kismet.org.
If you're interested in being a foster, apply today. Together we can give a dog who would otherwise be overlooked a chance to be their true selves.
You don't have to have room at the inn to help support dogs in need. Please consider making a tax-deductible donation. Every dollar goes directly to the animals under our care.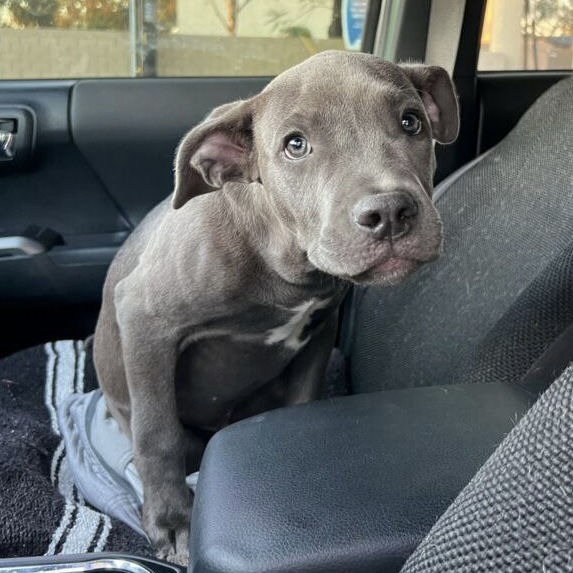 Ace
Meet Ace. He, along with his littermate Lyla, came to us by way of OC Animal Care Shelter. At eight weeks old, they arrived to their doorstep as "strays," both very sweet and friendly. They were deemed "rescue only" because Ace (FKA: Hassle) has a physical disability and Lyla (FKA: Hannah) was underweight and underdeveloped.
It was reported by the shelter medical staff that Ace had a congenital defect and most likely would need surgery to correct it. Although it would be discovered later to be incorrect, they originally diagnosed him with a condition commonly known as "swimmer's hindlimbs," which makes walking difficult at best.
Finding a foster for Lyla proved easier than for Ace, but we lucked out: A former adopter and dedicated foster stepped forward for Ace. Because of her generosity in agreeing to care for a pup with special needs, we were able to take Ace into rescue and schedule him for an MRI after he grew large enough for imaging to be effective. We suspected spina bifida early on and, unfortunately, the diagnosis was confirmed. This condition is rare in breeds his size, and is further complicated by his fecal and urinary incontinence. We're uncertain what his future looks like, but we're going to give him the best we can, day by day. We're amazed all the time by his foster who truly excels at his care.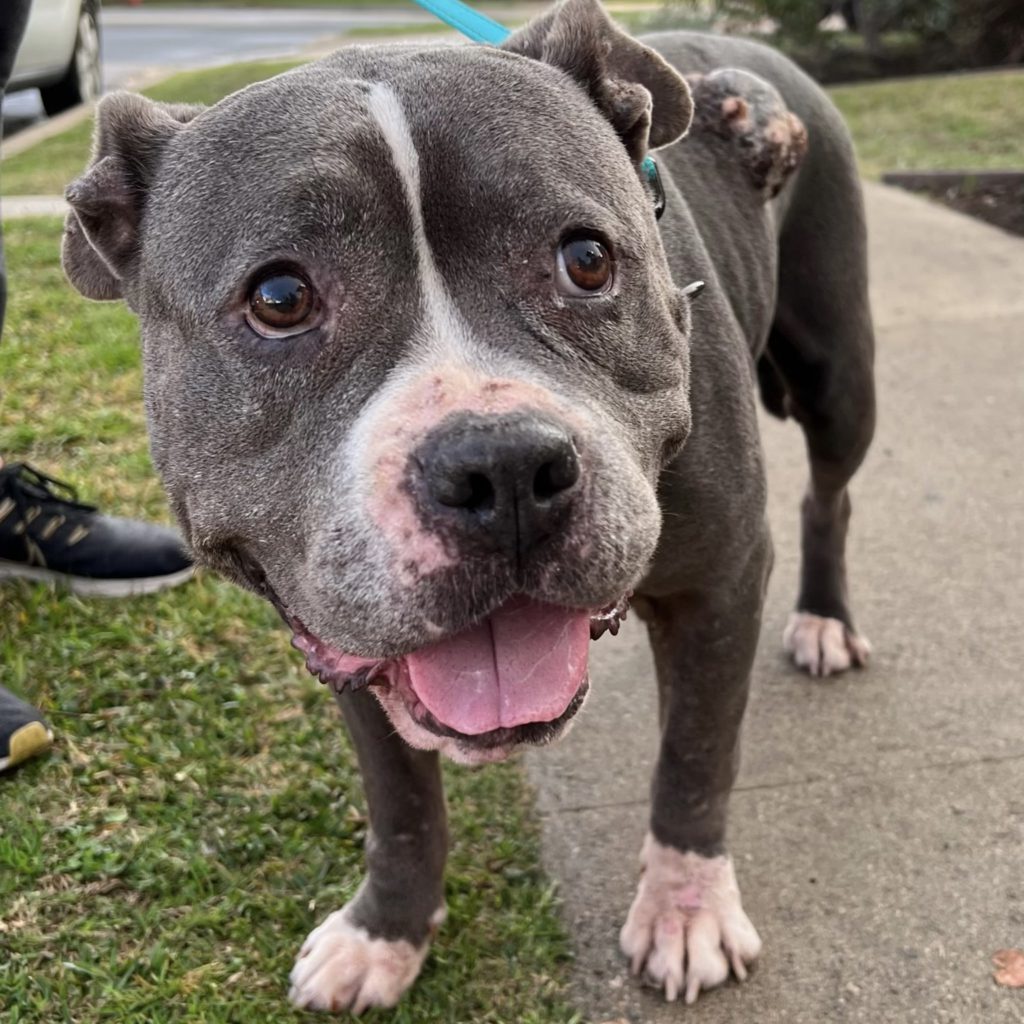 Dora
Meet Dora the Explorer. Dora is a very sweet, female pittie who was in urgent need of a foster. She was brought into Long Beach Animal Care Services as a stray.
This 5-7 year old girl had a very large, firm growth on her back. Her ears were dirty and crusty, and she showed signs of having given birth at least once. With that said, the puppy bite scars on her face and legs suggest there may have been many more. With the shelter being over capacity, Dora's medical needs made her need for rescue extremely urgent.
Dora demonstrated to shelter volunteers and staff that she just wants to be pet and loved. She enjoys treats, and takes them very gently. Dora walks nicely on leash, even sitting quietly as other dogs pass by. Knowing how much love and gentleness she exudes, her situation was especially heartbreaking.
Thanks to fosters stepping forward, Dora was able to exit the shelter and begin the healing process. The pathology results brought with them good news: The mass on her back was a fibroadnexal dysplasia, while the smaller one on her leg was a hemangioma. Those sound like big scary diagnoses, but they're actually benign. Our amazing vet was able to get clear margins on both growths. Unfortunately, we would later learn that her path to healing wouldn't be so easy. 
Having not been spayed prior to rescue, and then a terrible skin infection making it unsafe to spay her, she went into heat. One fateful morning, Dora vomited after breakfast. By noon she was lethargic and feverish. Dora's fosters rushed her to the hospital where imaging confirmed pyometra, a painful infection in the uterus that older unspayed females are more susceptible to. If not treated in time, the pus filling her uterus could cause blood poisoning, peritonitis, kidney failure, or even death. We had to act fast. Our sweet Dora needed emergency surgery to save her life. 
The infection was great, and she lost quite a bit of blood, but Dora made it through the procedure. She was hospitalized for the next 24-48 hours so she could receive fluids and IV antibiotics. Her surgical/aftercare estimate was costly, but thanks to the support of our generous donors, we seem to always find a way. Pulling dogs with medical needs comes with many unknowns, so we appreciate any donations–large or small–so we can continue to care for some of the neediest dogs that find themselves in the shelter.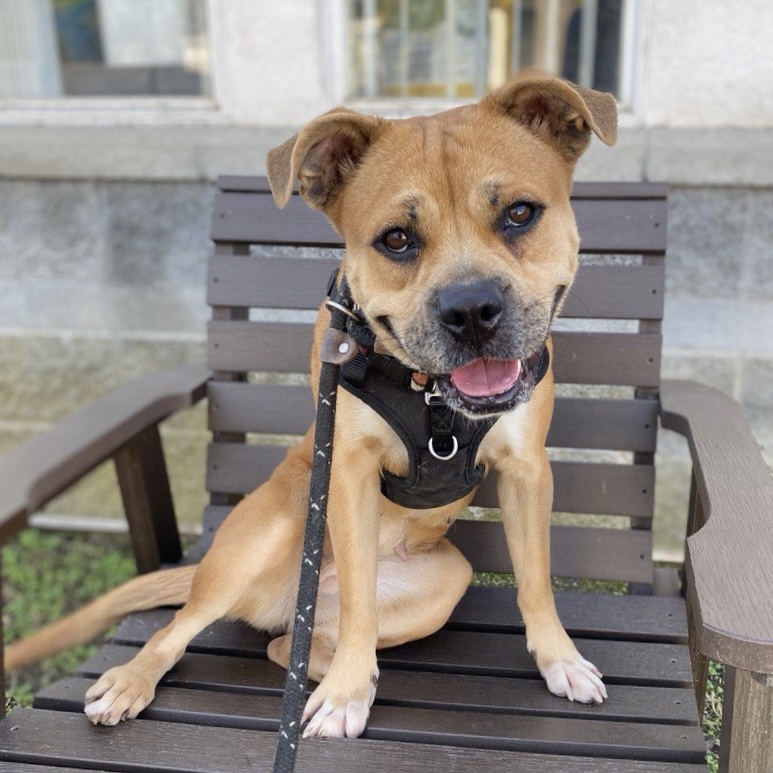 IdGIE
Meet Idgie Furgoode. Formerly known as Selina at Long Beach Animal Care Services. We waited and waited for this girl to be swooped up, but we could wait no more. At critical capacity, Idgie had been yellow-listed ("needs rescue") after enduring six months at the shelter. To make matters worse, due to her small size, she is among the pool of dogs to be downgraded to less-than-ideal accommodations (a crate in overflow areas) when bigger dogs come in. 
Idgie came into the shelter after reportedly being locked up in a play area at a Long Beach area park. She was with an older dog who looked similar to her, possibly even her mom. "Mom" was adopted by her forever family rather quickly, but sweet Idgie wasn't so lucky. She was a volunteer favorite who seemed more interested in cuddling up on the nearest bench than walking the grounds. Idgie knew her opportunity to get exercise and one-on-one attention at a packed shelter was fleeting and insisted on using that time to sidle up with her friends. Thanks to fosters who agreed to open up their home to Idgie, we were able to make her a part of the K9 Kismet pack.
Lucille
Meet Lucille. She came into the shelter as a stray after it took many days to catch her. Lucille was skittish and scared. She was intially adopted from Long Beach Animal Care Services by an active person looking for a running and hiking partner. What's better for that than a young Malinois/shepherd? Unfortunately, the adopter found out Lucille has heart problems. An arrhythmia, to be exact. That means, despite her age at the time (~11 months) and breed, she needs to be kept very chill. Since she wasn't compatible with the adopter's life, she was returned to the shelter. 
She's the sweetest girl who is currently alive because a foster stepped forward. We took her to a cardiologist for a full work up and she's now on heart medication that gives her the best chance she has to be medically stable and happy. Lucille lovingly shares a home with a tortoise, where she is able to demonstrate the wonderful spirit she is.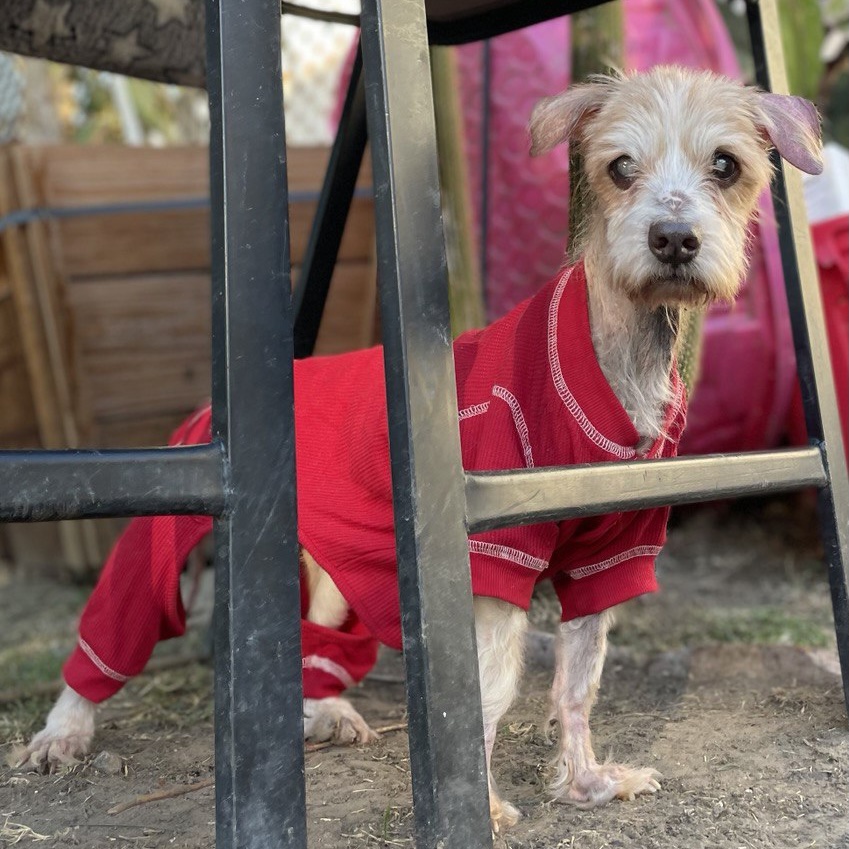 SHADOWFAX
Meet Shadowfax. He's come a long way since we rescued him. The best word we can use to describe how he was brought into Long Beach Animal Care Services is "skeletal." His shelter name was Patches because that's the only kind of fur he had–sparce, thin patches across his mostly-exposed, thin skin. We saw this little body and were appalled … stunned … disgusted by whomever let him get to that point. Without hesitating, we knew this blind, emaciated soul had to be a K9 Kismet dog. We knew we had to do right by him. He is a senior, deserving of love and dignity.
Shadowfax insisted on walking himself out of the shelter that day. He has a fighting spirit. He's a greater being than how we found him. He is Shadowfax. We're happy to report that, although he's been putting on the pounds slowly, his fur is coming back and he's looking more and more like the dog he's supposed to be.